Trending: The Hair Bow...Our top 6 picks for right now!
Posted by Amanda Born Digital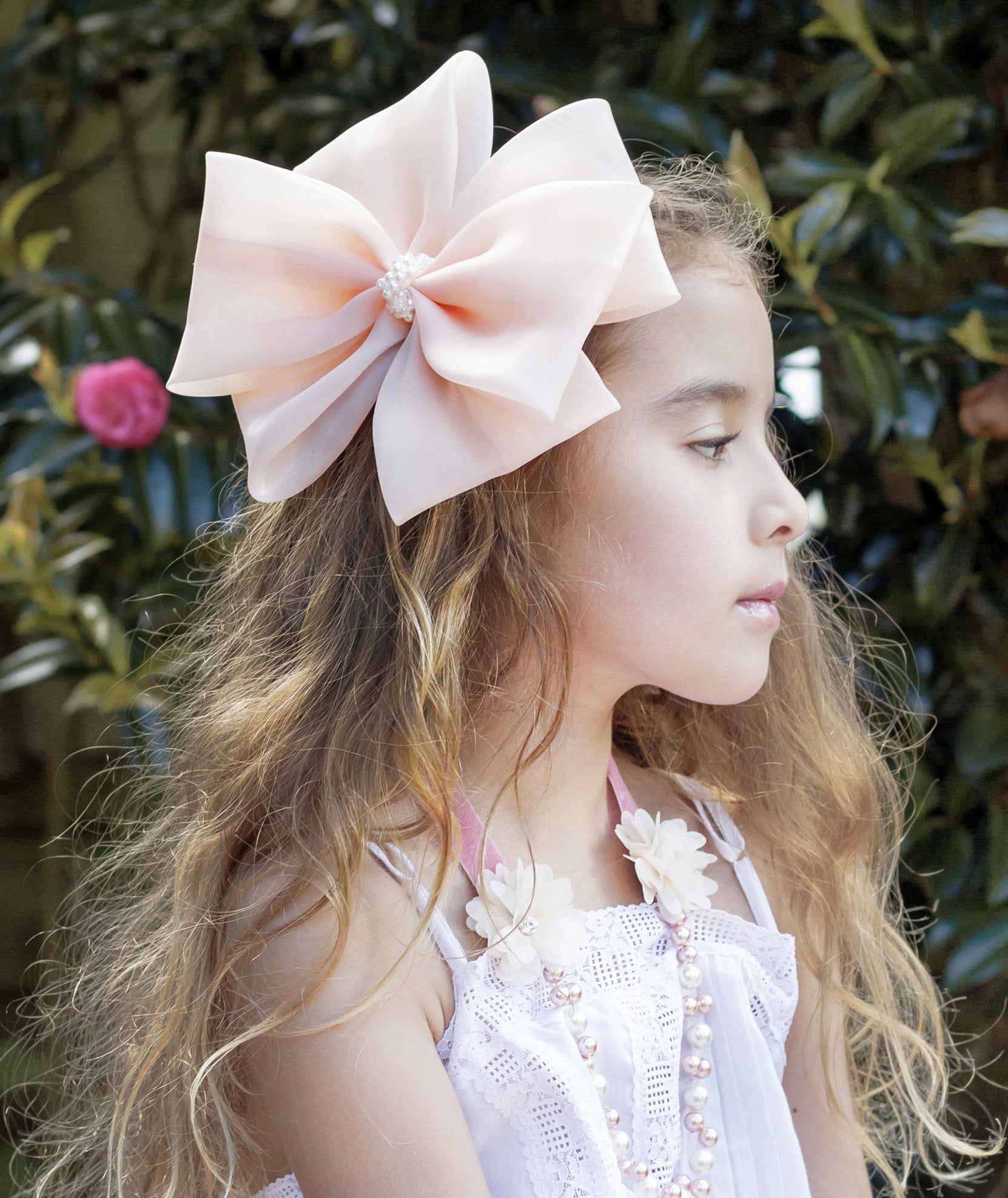 The hair bow is quickly becoming the fastest and hottest trend among mini fashionistas this season.  Bows are being worn by most every little one, from royal princesses, celebrity children on the red carpet, television stars and child models, making them a must have in the wardrobe for every little modern day princess, the more statement and standout the style the better!
Today on our blog, our team at Sienna Likes to Party Accessories share with you their top 6 picks for the best standout hair bows your little fashionista will need this season!
Very much on of the most statement bow 
headband
s in the
Sienna Likes to Party
Collection.  It has a double organza bow in soft peach, which creates a very dramatic effect when worn.
Each of the apricot organza bows are hand made and gathered together with a sparkling pearl and cut crystal centre piece.
This bow sits on an apricot satin covered headband.
A magnificent large double satin bow in
black
which is the most perfect sparkling party
hairclip
.
Each of the large bespoke black satin bows are hand made and gathered together with a great diamante and cut crystal bead centre, perfect party wear hair accessory.
This gorgeous
Sienna Likes to Party
designer girls bow
hair clip
is  hand made of soft tulle in soft pink, is very finely pleated to create a dynamic texture.  It is then heavily embellished with hand stitched with scattered pearl and clear cut crystal beads to create an outstanding sparkling centre.  The most beautiful partywear hair accessory.
The Dewdrops and Bows Crystal and Pearl Hair Clip
This stunning bow is created from a based of luxury cream petersham fabric, creating a double bow hair clip that is elaborately adorned with clear cut crystals to create a gorgeous flower design all over it.  The bow is tied in the centre with six rows of tiny pearl beads.  This style makes the perfect flower girl hair accessory or special occasion hair adornment.  Also a gorgeous idea for an heirloom keepsake.
The Primrose Hill Organza Hair Clip
The largest double organza bow in the Sienna Likes to Party Collection.  This Designer Hairclip creates a very dramatic look in the hair.  Each of the soft cream organza bows are hand made and gathered together with stunning pearl and cut crystal bead centre for extra sparkle.  This is a gorgeous flower girl accessory or princess party accessory which is also available in soft apricot.
The Countess in Pink Hair Clip 
This is a highly embelished bow hair clip is a double layer bow in the softest of pinks.  The Petersham bow is heavily encrusted with hand stitched pink, clear and pearlised crystal beads.  The beading is highly detailed on each of the bows, creating an elaborate design with an art deco feel.
To see our full range of bows and all of our collections visit Siennalikestoparty.com
#love #siennalikestoparty #flowergirl #princess #flowergirlaccessories #girlshairaccessories #designergirls #headband #pearlheadband #designerbridal #luxurykidswear #kidsfashion #bow