The Ultimate Flower Girl Guide [Part 2]: From Flower Girls' Roles To Flower Girl Dress + Accessories, We Got It All Covered!
Posted by Caroline Soriano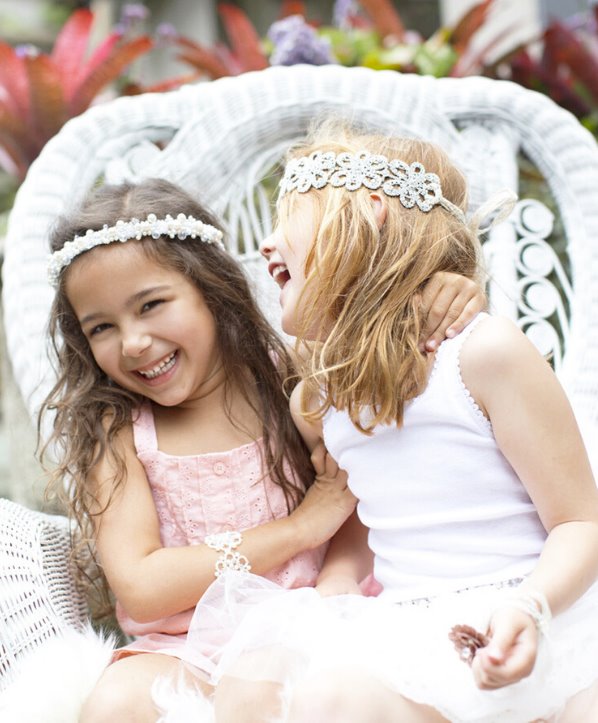 Knowing that your child was picked as a flower girl for your friend's wedding is both exciting and terrifying. You wanted to see her walk in the aisle but you might be clueless how to dress her up. You are excited to take photos as she scatters flower petals but you're not really sure what her role is about.
Don't worry, in this post, we'll spill the basic things you need to know, including how to dress up your flower girl like a pro!
P.S.
Check out our Ultimate Flower Girl Guide Part 1 to know more about the traditions and tips on how to dress up a flower girl.
The Flower Girl's Role
More or less, we think of flower girls as the cute girls wearing a white or ivory dress, throwing flower petals to the floor. That's true.
It's not really a complicated task but that doesn't make her role less significant. Being chosen as a flower girl only means that you and/or your child is important to the bride or groom -- or both. Your little one's role is also to steal a couple or more smiles and the crowd's heart.
How Old Is Too Old Or Too Young For A Flower Girl?
Generally, girls between the ages of three and ten years old are perfect for the role of a flower girl. If you're planning to choose a child that's over 10 years old, it might be better if you can make her as a junior bridesmaid instead. This lets her have a participation in the wedding without being overwhelmed with responsibilities assigned to bridesmaids.
Now, as mentioned, most kids from 3 years old and above are chosen to play the role and for a good reason but does that mean that you can't choose toddlers to become flower girls?
Normally, young ones that are less than 36 months can barely walk and most often than not, needs extra attention. However, if the celebrants insisted on making her a part of their big day, you can do so by holding her hand as she walks down the aisle or by placing her in a cute wagon.
Pair it up with a nice dress and stunning headpieces, such as The Carina Star Designer Princess Crown Garland or The Lady Mayflower Hat and she's good to go.
When your kid's over two years old, she is learning or may have learned how to walk so it's less of a hassle. All you have to do is ensure that she knows when to start walking and where to go. Some young girls are either scared or shy so the best way is to have her mom or dad wait at the end of the aisle or have someone walk beside them.
Whether she's going to wear a plain white dress or another color, you can easily turn her into a stylish little lady by adding luxury pieces, such as The Galexia Crystal Designer Girls Headband or The Alya Crystal Flower Headband.
Three to five-year-old girls know how to walk and compared to the younger, are less likely to throw tantrums. This is good news for you since there's a huge chance for her to toss the petals smoothly and easily.
The challenge is how to take the boredom or tiredness away. A wedding doesn't start and end quickly so it's best if you can bring a few distractions, such as her favorite toys or books. 
The best part is that they have an idea of how to style on their own. Otherwise, you can make her the darling of the crowd with the help of our The Miss Taffy Bow Designer Girls Headband or The Clementine Designer Girls Hair Garland.
Girls between the ages of six to ten years old can be the best choice. Since they are a little bit older, they know how to follow instructions on their own while staying focused on the entire ceremony. This is also the time when she can keep the guests and celebrants entertained.
Dressing up is fun because these girls are willing to explore designs. They can even express themselves freely through their hair and accessories they wear.
They can look fab easily with the simplest pieces, such as The Glory Flowers Diamante Designer Hair Garland or go glamorous using The Queen Of The Kingdom Crown Garland.
Interesting Watch: Check out the best luxury necklace for flower girls below:
What Should A Flower Girl Wear?
Traditionally, flower girls wear a ball gown dress or a tea-length dress but as always, it's the celebrant's decision. When it comes to color, white or ivory hues are popular but then again, it depends on the theme of the wedding.
Whatever motif they have, be sure to go extra using our finest flower girl collections. Not only does this make your little girl stunning, but it also gives her a sense of empowerment and confidence. Our high-quality jewelry is made to last a lifetime so it's definitely worth having.
What do you think of this post? Do you have other tips on how to dress up a flower girl? Feel free to share your thoughts in the comment box below.
Thank you!